About Us
GuamPCS.com provides military personnel and government employees temporary lodging in one of Guam's premier resorts AND a free courtesy car for use while in temporary lodging allowance (TLA) status. All our customers, regardless of rank, will experience exemplary customer service with the GuamPCS.com team handling the details. Our fees are based on the service member's authorized TLA allowance: This means no direct cost to our customers.
Read more about how our service works.
Meet the Founders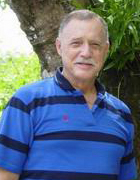 Maj Mike Carey, USMC (Retired)

President
Mike enlisted in the Marine Corps in 1959, and was commissioned in 1965. He served in various intelligence, reconnaissance, infantry and training assignments, including three combat tours in Vietnam. He retired in November 1979. In October 1987, Mike and his wife, Christine, landed in Guam with two backpacks and a camera bag. They had never been there before, didn't know a soul, didn't have jobs. High adventure for newlyweds.
After a stint as a sports reporter for KUAM-TV, Mike managed a wholesaler's warehouse, served on the executive management teams of the prison and the police department, managed a solid waste hauling operation, served as a prison chaplain and trainer with Prison Fellowship International, and, in 1996, was ordained an Episcopal priest. The couple lived in three different villages, lived aboard their 36 foot sailboat for four years, and eventually bought a condominium near the University of Guam .
Mike was reassigned to the Hawaiian Diocese in December 2000, where he struggled as a parish priest. "I really liked working with prisoners . . . they're a lot like Marines . . . but, those little blue-haired church ladies are scary!" After a long, discouraging year, Mike left the ministry and took a job as a tactical shooting instructor in Bremerton, Washington .
The former Chief of Guam Police called in late 2002 and persuaded Mike to return as Operations Officer for the Transportation Security Administration at Guam International Airport . With impeccable timing, he arrived just in time for a major typhoon. Christine and Murphy, her adopted Pit Bull Terrier, joined him the following year.
After three years as a federal employee, it was time for a change. "The feds pay well, but there's not a whole lotta joy in it!" Mike secured his Real Estate license in November 2003 and left TSA in April 2004. He and Martin Howard teamed up to form GuamPCS.com in October 2005. "Between us, we've made dozens of military PCS moves. We've both been there, done it, and got the T-shirts . . . helping military families get settled on Guam should be as normal as breathing!" Mike also serves on the Guam Parole Board and enjoys scuba diving, hiking, backpacking and foreign travel. He is a self-proclaimed mid-sixties health nut who refuses to grow up.
GySyt Martin W. Howard, USMC (Retired)

Vice President
Martin joined the Marine Corps on August 30, 1984 and attended basic training at Parris Island, South Carolina. Upon graduation from boot camp, he reported for law enforcement specialist training at Lackland Air Force Base, Texas. After completion of advanced training, Martin completed tours of duty at Camp Lejeune, North Carolina, 3rd FSSG, 3rd Marine Division, 29 Palms, California, Camp Pendleton, ended his career in August 2004, as the Chief Investigator of the Marine Corps Criminal Investigation Division, San Diego, California.
Martin's first words upon landing on Guam… "Oh my GOD, what have I done?" After a difficult adjustment period (he didn't unpack his bags for 6 months) Martin has quite adjusted to the island way of living. Many of his friends, still in San Diego, leave home three hours early just to get to work on time. "There's something bizzare about that."
After the usual bout of laziness often experienced following retirement, in April 2004, Martin obtained his Guam Real Estate license. Primarily focusing on Guam's military market, Martin has assisted numerous military families finding suitable rental and investment properties, helping them in their transition into island life.
Martin's other interests are scuba diving, rock climbing, mountain biking, skydiving, and other general outdoor stupidity. Martin has been a certified Master Scuba Instructor since 1991 and has certified over 1,300 divers to various levels.